60% Vignoles, 20% Vidal Blanc, 20% Cayuga White
---
Finger Lakes, NY
Sun Moon Rising, Scorpio Skin Contact
About this wine
Finger Lakes, NY. 60% Vignoles, 20% Vidal Blanc, 20% Cayuga White.
Scorpio- October 23 - November 21
Protective, clever, and charming, Scorpios bring humor and logic to every situation they are in. With a deep sense of intuition, those born under this Water sign are patient and calculated in their decision-making. As a fixed sign, they are unbudging in their opinions, which are almost always right. They are fiercely loyal to those they care for and will always come to their defense. Much like the refined presence of Scorpio, this dry Orange Wine is intricate and freshly fragrant with aromas of orange peel and underripe banana. This wine is unique and intriguing, similar to Scorpios who have an air of mystery and impeccably good taste.
WHY THE TIPSY DUCK?
Stunning, Sustainable Sips—Is There A Better Way To Drink?
Exceptional pours we know you will love.
Small-batch

We support small farmers, winemakers and distillers who are focused on responsible farming, sustainability and inclusivity.

Hand-picked

We carefully curate our in-store selection so you get more from every pour - unique, interesting wines and spirits all with a story to tell.

Stress-free

We want wines and spirits to be an enjoyable experience so you can be 100% confident that you are selecting something fantastic.
Marquee
Small batch • Hand picked • Lively libations •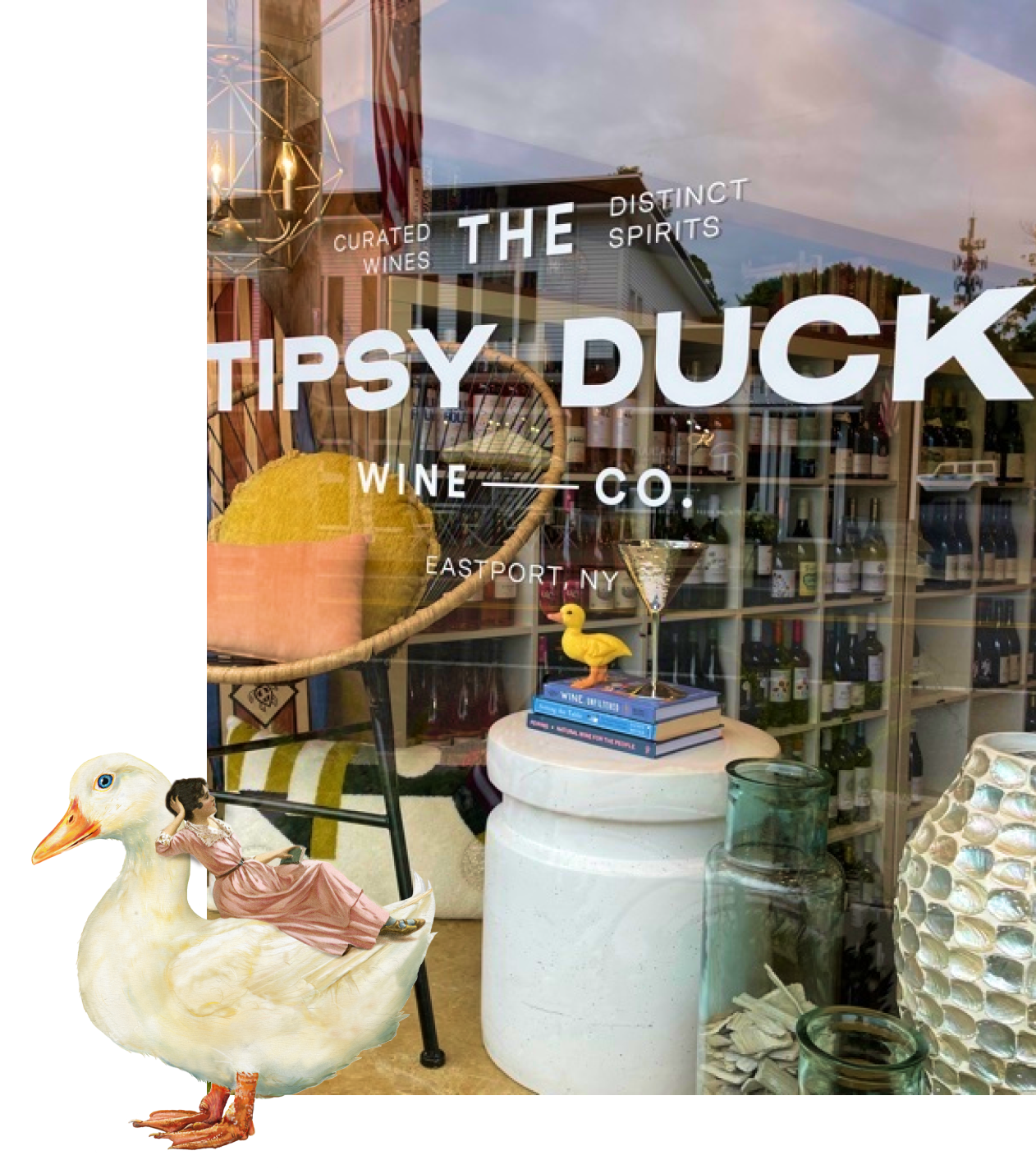 COME SAY HELLO
Easy Pick Up On Your Way To The Hamptons
Stop by to see us and check out our small, hand picked selection of wines and spirits. We're on the way to the Hamptons just off exit 70 (yes, that's your exit too!). Place your order ahead for curbside pick-up along the way, or come in to experience our daily samples, regular tastings, local gossip and sparkling personalities.