Botanical Spritzer
---
California
Las Jaras Waves Botanical Spritzer Cans 4-pack Cans
About this wine
California. Grapes and botanicals include Gruner Veltliner 75%, Albariño 15%, Chenin Blanc 10% + Angelica Root, Juniper, Rose Buds, Green Cardamom, Grapefruit Peel, Rosemary, Coriander, Douglas Fir Needles, Anise, Star Anise, Lemongrass (all organic). Organic. The wines started fermenting naturally after about seven days in stainless steel vessels. Aged on their lees, then racked and blended. The wine was macerated with its botanical mix for a period before being filtered, diluted and then spritzed up. Filtered prior to canning. The palate shows white cherry and apricot, juniper, air of the forest, and grapefruit, with subtle notes of brown spice. There is a robust sparkle and racy acidity and a long finish of grapefruit. 4 cans.
WHY THE TIPSY DUCK?
Stunning, Sustainable Sips—Is There A Better Way To Drink?
Exceptional pours we know you will love.
Small-batch

We support small farmers, winemakers and distillers who are focused on responsible farming, sustainability and inclusivity.

Hand-picked

We carefully curate our in-store selection so you get more from every pour - unique, interesting wines and spirits all with a story to tell.

Stress-free

We want wines and spirits to be an enjoyable experience so you can be 100% confident that you are selecting something fantastic.
Marquee
Small batch • Hand picked • Lively libations •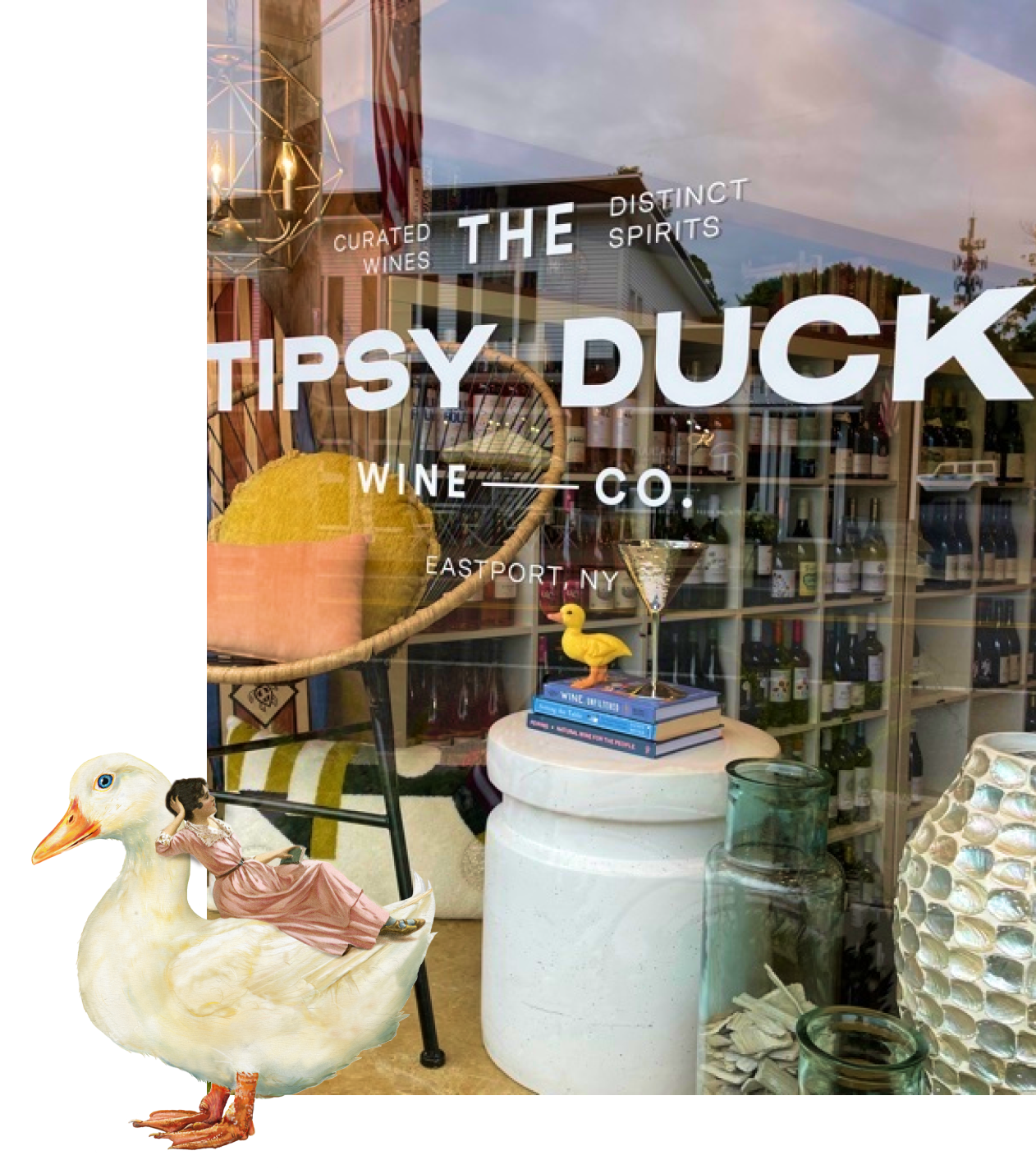 COME SAY HELLO
Easy Pick Up On Your Way To The Hamptons
Stop by to see us and check out our small, hand picked selection of wines and spirits. We're on the way to the Hamptons just off exit 70 (yes, that's your exit too!). Place your order ahead for curbside pick-up along the way, or come in to experience our daily samples, regular tastings, local gossip and sparkling personalities.