Tempranillo, Grenache
---
California
Iruai, Lounge Lizard Rosé (2022)
About this wine
California. 80% Tempranillo, 20% Grenache. Notes of fresh blackberries, cherries, lime zest, and pixie sticks. Enjoy in the sun, in good company, and in good quantity.
"We named it 'Lounge Lizard,' because of its laziness, but we mean that as a compliment. In tarot parlance, the 'Lounge Lizard' would be 'The Fool,' and we could all use a reminder to let our inner 'Fool' flag fly: cast off the worries of the world, if only for a bit of day drinking. The '22 'Lounge Lizard' Rosé is wild, rocky, and bounding with a just-pied-in-the-face frisson of big blackberry energy."
WHY THE TIPSY DUCK?
Stunning, Sustainable Sips—Is There A Better Way To Drink?
Exceptional pours we know you will love.
Small-batch

We support small farmers, winemakers and distillers who are focused on responsible farming, sustainability and inclusivity.

Hand-picked

We carefully curate our in-store selection so you get more from every pour - unique, interesting wines and spirits all with a story to tell.

Stress-free

We want wines and spirits to be an enjoyable experience so you can be 100% confident that you are selecting something fantastic.
Marquee
Small batch • Hand picked • Lively libations •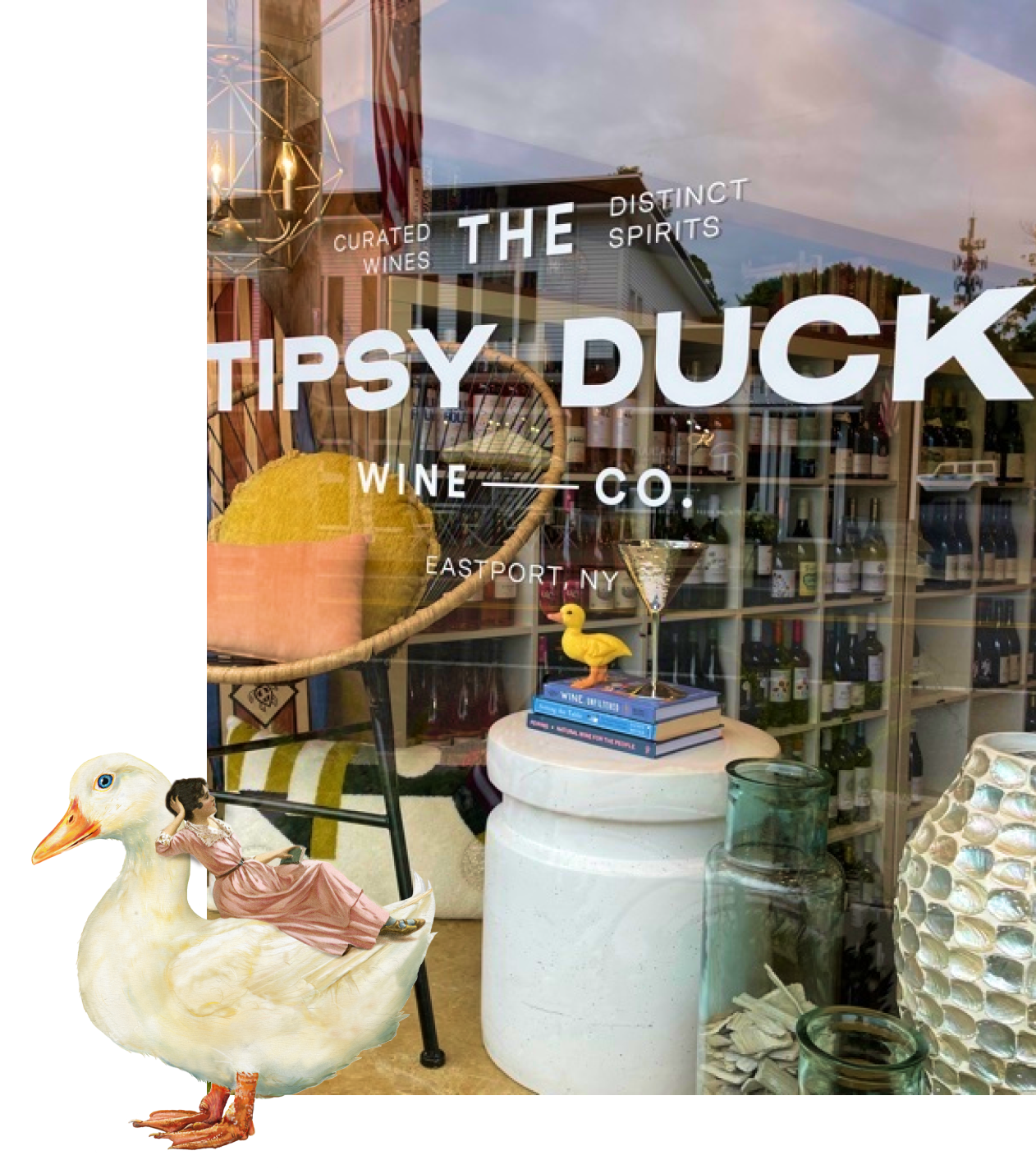 COME SAY HELLO
Easy Pick Up On Your Way To The Hamptons
Stop by to see us and check out our small, hand picked selection of wines and spirits. We're on the way to the Hamptons just off exit 70 (yes, that's your exit too!). Place your order ahead for curbside pick-up along the way, or come in to experience our daily samples, regular tastings, local gossip and sparkling personalities.